Hello faithful reader. That's what you must be if you're still checking out this space on occasion!
It's been a while, I know. So what's new? I'm going to just dive into this here.
I have a one year old. She's my talkative, loveable, ball of energy. No walking yet, but she's so close. She's standing on her own and walking with any item light enough to be pushed around the room. I have no doubt that she'll just walk into the kitchen one day while I'm getting dinner ready and be like, "Oh, hi mom." Probably saying that entire sentence too. She's kind of got a personality like that. She'll be the kind of girl who will accomplish something really big and will act like it's no big deal and that it didn't take her hours upon hours of practice to achieve. Just like her daddy. I like that.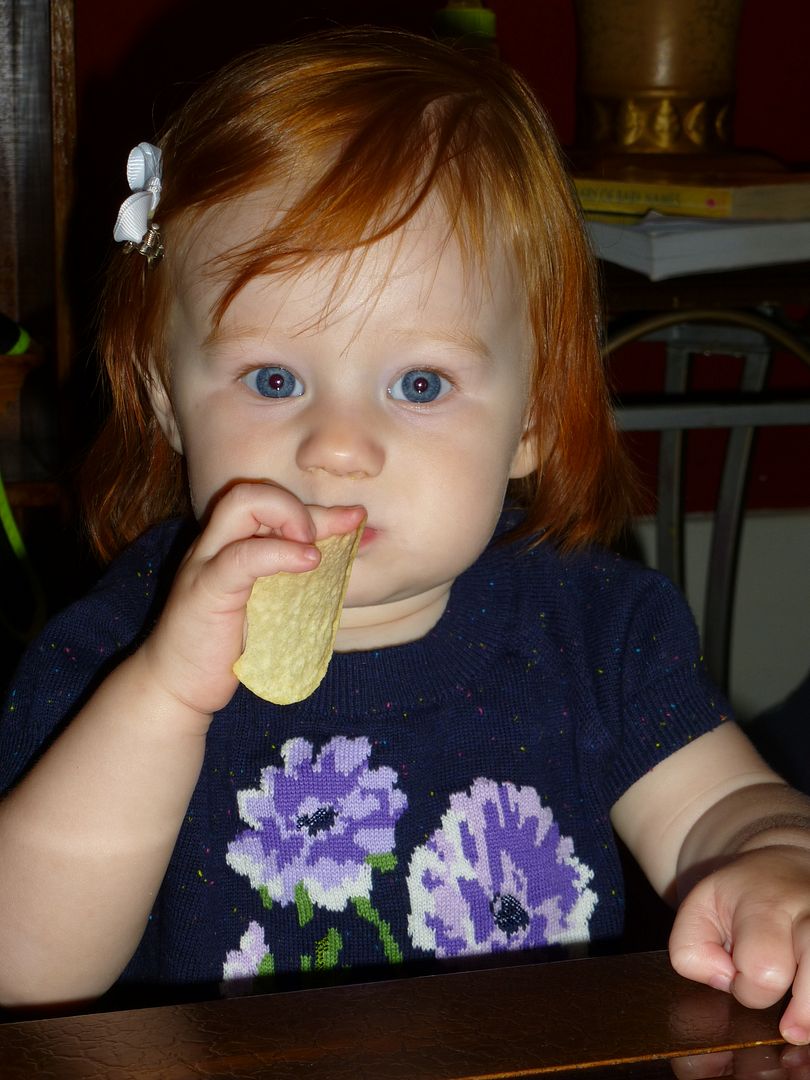 You may also notice in the picture below that I also have a protruding waistline. That would be because, as of today, I am 25 weeks pregnant with a baby boy. Surprise! Things are going really well with this pregnancy and just about everything is the same as when I was carrying Vanessa. No morning sickness (just some slight nausea), no medical issues, and just some tiredness at the end of the day. The only real notable difference so far has been that I'm not craving Coca-Cola or French fries this time around (fruit instead!). As a result, I'm not gaining weight at the alarming speed I did with Vanessa, so that's cool and I hope to keep that up. Our little one is due to arrive on October 23rd, but for some strange reason I'm really hoping for a November baby, but really as long as he doesn't pick the 31st to show up we'll be fine. I really don't want him to have a Halloween birthday.


James has been back to work for a while now, so that's been a relief. Just last week I was reflecting on the fact that he hasn't actually been back to work for as long as he was off (four months -- jobs were slim this winter for a bricklayer). I'm thankful that I married a level headed man who is so willing to work. With those four months so fresh in our minds, he's been taking on every side job he can get so we can save for our next "rainy day" (or more appropriately, "colder than average winter").
As for me, we made the decision for me to not return to work once Vanessa turned a year old. (One year is the traditional time frame for maternity leave in Ontario.) We'd decided this long before she was even born, but it just seemed to be so much more real once her first birthday came and went. I have taken on a part-time babysitting job at my home, and I've been enjoying that. It keeps me busy and it's always nice to have some extra cash for things. Sometimes I miss my coworkers, but really, being a full time stay-at-home-mom feels so right that I think I've found my calling in life and I feel absolutely no shame in that.

Speaking of that, what's up with mom shaming? You work outside the home? Shame on you for not spending time with your children. You don't work outside the home? Shame on you for giving up on the feminine cause. Seriously people, this kind of stuff is just as ridiculous as the formula/breast feeding and the natural birth/epidural/C-section shaming. We're all doing what's best for our individual families and that's good enough. (And it's none of your business.) /end rant.
If you're following my Pinterest account, you've probably noticed that I'm obsessing over gardening right now. Last summer was our first summer in this house and I really didn't get outside much with Vanessa being a newborn and me in full blown recovery mode. So now that I'm feeling fine, I've been checking out the place and what's growing in the yard. I knew we had grapes, but this year is a bumper crop! I've also discovered some gooseberries, hard necked garlic, and red currants. The apple trees are bearing this year and my transplanted blackberry bushes are doing well. Of course I planted my yearly zucchini and beans and whatnot and all that is doing pretty well too. Hopefully I can share some of my experience with you all once I get good enough at this whole green thumb thing to do so.
So that's that. I know I blog quite sporadically and to be honest, I don't really see that changing any time in the near future. So if you don't want to miss out on any updates, I'd highly recommend that you subscribe to my blog via
Bloglovin'
or Google Friend Connect.
Another surprise for you, I've started another blog and I've thinking of moving over there sometime since I just don't really feel like this space reflects who I am anymore. The only drawback is that I have a following here, albeit a small one, and this page has a great many hours poured into the set up and design. Not sure I'm willing to go and set all that up again on another page when this one is perfectly fine. So much work and, as you can tell, I have enough trouble just typing out a post. ;) If I ever do open up that space, I will post the link here but in the meantime this is where I'll stay.